With nearly every game launched over the past eight years, we've been late releasing.  With each game, I try to build in a little extra time when making release date promises. Yet, there still just isn't ever enough time to get done.
With our current project, Airport Madness 3D, I decided to get smart and not make any promises at all, other than "early 2016".    Well, here we are, and it is March 9th.   The game still has a least another months' work.   As a business owner, I must hype this came up as much as I can.   However, as a one-man show, it's hard to get specific about a release date.
On all of my social channels, my vague words have somehow become a promise of "March".   It's just that easy to get myself into trouble!   I can guarantee that it will not be ready in March.  However, April does look very realistic.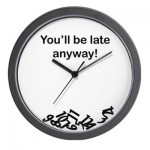 This week I will completely finish the game's engine, as well as one of its airports.   The three additional airports will require approximately 10 days to construct, as I have designed my code so that additional airports are easy to include.   Add to that any additional time that I require for unusual bugs or launch issues with our new game development platform, Unity 3D.
I've always sucked at sticking to delivery date promises. Those of you who have followed me since the beginning give little value to my promised release dates. In spite of that, you all continue to support me, and I greatly appreciate this. I'm working as hard as I can for you!
---