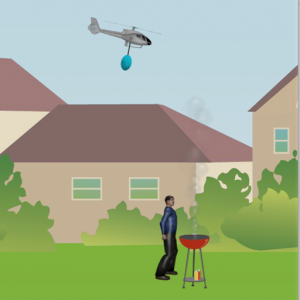 I'm always amazed at how long it takes to build a simple game.  Back in July I had this idea for a helicopter game that involved dropping objects on others, and creating havoc.  Seemed simple enough.  How long could that possibly take to whip together?  A month?  Seven months later, I proudly offer you Backyard Brat for iOS.  Well, proud may be too strong a word.  Let me rephrase that and say that I gladly bring you Backard Brat for iOS.
There's so much competition out there, these days.  They say (and it MUST be true if THEY said it) that it costs a million dollars to build a decent app nowadays.  500k for development, plus another 500k to promote the finished product.  I am thankful of the fact that the expenses came in well below that.
There is so much that you get from even the free apps out there right now.  My daughter is obsessed with a game called Clumsy Ninja right now.  Awesome graphics, fun gameplay, not too pushy for your money.  I must remind myself that I'm not a team of 20 with a million dollar budget.  I'm the guy you see at Starbucks, sitting in the corner with his Macbook Pro.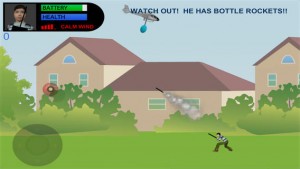 As I've said before, I love building air traffic control games.  Air traffic control is my day job.  I have no plans to ever stop building Airport Madness or Radar Chaos.  But I have to try new things at least occasionally.   Like I did with Office Jerk 3 years ago.  This new game is similar to Office Jerk in how it allows us to be the troublemaker, in the consequence-free environment of our mobile device.  I've mentioned that this game is an experiment, and if it's a hit, there will be more such games.  If not, I maintain focus on the air traffic control stuff.
I hope you will give this game a try.  Tell your friends.  Let me know if you have suggestions or ideas for it.  Be on the lookout for a Flash-based version of the game very soon.