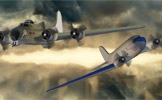 Airport Madness: Time Machine has just passed the 3.5 star rating on kongregate.com, one of the leading free flash game portals on the web.  Gotta savor the small victories in life!
Is 3.5 stars any good?  Kongregate says "4.0" is the magic number.  Once you break 4.0, you are something truly special.  A 3.5 is good enough to get you featured in their Top Games section (although I didn't see mine there – sad face).  Hopefully achieving this benchmark will get the free version of this game found by portal owners.  Fingers crossed as usual, for a viral flash game.
We launched AMTM for iPad last week, and so far it's done well.  5 star average (although that's from only 4 votes 🙂 ). The free version will be in the app store some time next week, hopefully.
I have high hopes for this game, as I do for all of my releases.  And believe it or not, the creative juices are already flowing for our next version – Airport Madness: World Edition.  Start pelting me with your favorite real-world airport suggestions, please.