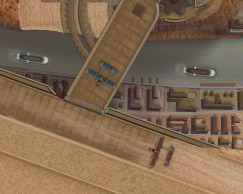 Allow me to apologize for not responding quickly to some people's posts.  It's been a bit crazy around here lately, as it always is after a new game release.   And it's just me here.  Indie Game Developer Extraordinaire.  I have customer support on one screen, and raw game code on the other.
Airport Madness: Time Machine has received plenty of feedback.  I've heard the good and the bad.  All of it via email, telephone, Twitter, Facebook, YouTube, and Kongregate.  The people have spoken. The game is an experience.  A journey.  It's worth the ten bucks.  But it's not quite Airport Madness 4.   It's my goal to get this game where it needs to be.
Using Kongregate's feedback ratings as a measuring stick, here are the scores given to all of our games thus far.  Kongregate says a 3.0 is "fair", a 3.5 rating is "good", and a 4.0 rating is "great":
Airport Madness 1 – 3.57
Airport Madness 2 – 3.59
Airport Madness 3 – 3.31
Airport Madness 4 – 3.68
Airport Madness 5 – 3.45
Radar Chaos – 2.66
Radar Chaos Hawaii – 2.66
Sky Madness – 2.78
Will It Fly? – 2.57
Some find the process of working through 60 years long and painful.  Some say that certain levels are painfully hard.  Others painfully easy.  I suspect that the levels are too long.  They need to be shortened, from their current 4-minute duration, to about 2.5.  The levels also need to be unlocked, so that users can jump to any year, any time they feel like it. These types of tweaks are easy for me.  I just need to be pointed to where the game is boring, or where it feels impossible.  Game duration and intensity are easy.
With some minor changes, I can get this game above the 'good' mark.  So please, shout out the feedback to me if you have it!