After a long 16 months of development, we proudly offer you Airport Madness 3D!  Airport Madness now has a third dimension.  We sincerely hope that you enjoy this seventh version of the series.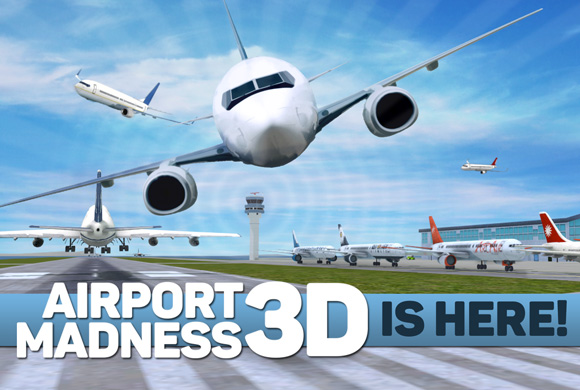 This is our first non-Flash game, developed entirely in Unity3D.  Unity was a pleasure to work with, but has been a steep learning curve for us.  Customers no longer require installation of Adobe Air beforehand.
Airport Madness 3D seems to be well received by the 1500 customers who have made purchase.  It is more difficult than previous versions.  It is more immersive.  Your chair needs to be in the upright position.  Maybe have a coffee first.  Tylenol later.  Airport Madness 3D is intense.  Most say it is a great deal of fun, which is truly a relief.  I don't mind having a few bugs to fix, but you can't fix boring.  So I'm glad for the positive feedback.
I've had several people ask, "Is this a free update, or do I have to buy all over again?".  The answer, sadly, is that you must buy again, as this is a brand new application.  We just released its first update 1.02 today, hopefully fixing some minor bugs within the game.  As 3D is brand new to us, we plan to offer many, many updates to this game in the coming years.  This is our new thing.  We've done 2D to death, and it's time to evolve.
We sincerely thank you for your business.  If you have not purchased Airport Madness 3D, what are you waiting for? Click this.